Presenting…a felt poem creator!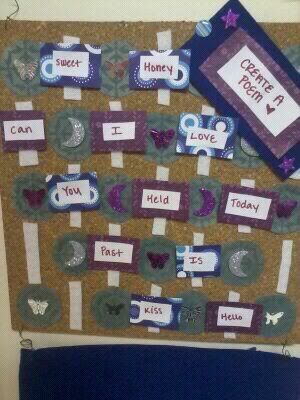 Similar to magnetic poetry, this little board can hold words for creating prose.  I plan on using it as one of our fun attractions at our vineyard reception.
First of all, please bear with me as this is my first attempt at a tutorial.  I am the type of crafty person that chooses the materials that speak to me and run with it, so many of my creations are on the fly without much structure.  If things seem like they weren't planned, they likely were not!  A trip to Wal-Mart with my credit card resulted in bargain craft shopping and this project.
For this you will need:
Felt (mine had sticky backing)
Wire (I used green floral wire)
Sparkly decorative pieces (such as these butterfly spangles and stickers)
Colored cardstock/thick paper (I get the kind in the scrapbooking aisle)
STEP ONE: Form your wire hanger.  This will be what holds up your cork board.  I coiled mine into a twisted pattern.  If you make it a little tight, that's okay, because you can pull it apart and make it looser later on.
You can use a push pin to create a hole for the wire near the top of the cork board.  Make sure you give yourself enough room for the wire to hold.  If you put it too close to the edge, the wire can tear through the cork board.
After you put the wire through the cork, pull through so there is enough slack to wrap it around and secure.  Make sure the excess wire slack is pointing inward to prevent injury (can also cut or round off).
STEP TWO: Apply decorative pattern from card stock.  I chose this piece of card stock for my design because I wanted a semi-sophisticated polka dot pattern.  However, you can choose any shape you like.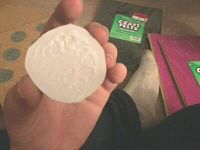 Cut out as many shapes as you wish to use and arrange to test out your spacing.  I wanted 5 rows, and for me it worked out to be 18 circles that I had to cut out.  You want to leave room between the shapes so that you are able to place pieces of felt.  Glue your shapes to the cork board.
I did this because I was going for a particular look and wanted the cork board to be visible.  You could also alter the look of your poem board by applying the sticky back felt/gluing plain felt to the cork board before placing your shape design.  Either way is fine.  (If you choose to place the felt before the shapes, you can skip step three.)
STEP THREE: Add felt pieces.  The felt pieces are what will allow the words to "stick" to the cork board for the guests to create their own poetry.  I chose white and as mentioned above, I had self-adhesive felt which made this part of the task much easier.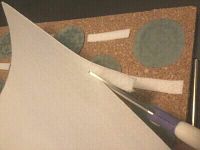 I cut out long thin strips of the felt that would comfortably fit between my circles while still showing the cork. They're not perfectly even, and that's ok!
STEP FOUR: Decorate and make header.  This part could have been sped up for me if I had a glue gun.  While I generally don't like using glue guns on paper and the like, it is good for using on sequins, like the butterflies I used.  It was a bit of a pain using white craft glue.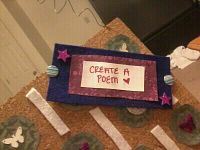 The header itself was made from felt on the bottom, then white card stock on top of colored card stock (all glued together).  I left the backing on the sticky felt for this part and secured it with push pins so that the header was still able to be moved around/removed for other purposes.
 STEP FIVE: Make word bank.  Take a section of felt and cut it to desired size.  I made mine the same width but shorter length than my cork board.  Use wire and same technique in STEP ONE to attach felt to bottom of the cork board.  I found that using a push pin to create a hole and leaving the sticky backing helped me to thread the wire through the felt.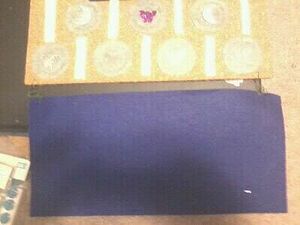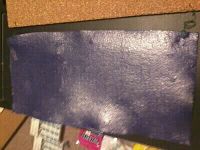 Remove the sticky backing from the felt and place card stock cut to size on back.
Trim off extra edges.
STEP SIX: Make words.  The words were simple to make.  I wrote the words in by hand in permanent marker on white card stock, then glued on top of colored card stock.

Using the strip with stiff backing (not the fuzzy backing) from the velcro strips kit, place one strip on each word.  Now they'll easily hang out in the felt word bank.
The final result is fun.  My fiance stopped by the poem creator board this morning and looked at it for a good five minutes.  He found it to be really intriguing and wanted me to make more words.
Bonus: the cost is fairly low.  The cork board was around $6 for 4 pieces, so $1.50 per piece.  Packs of card stock are $5 for 50 pages, and I used 3 pages, so $0.30.  Velcro strips can be pricey, but I got 15 for around $3 (you don't need industrial strength).  Wire, stickers, and butterfly decorations I found on Wal-Mart clearance for around $2 each.
Grand total is about $12-15 (for crafty people who already have supplies and won't be out the extra money).  If you bought everything just to use it for this project, it could run you closer to $20.
Feel free to use and/or modify!